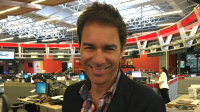 No coincidence that thousands of Canadians are wearing plaid today and on Father's Day to help raise awareness and funds for prostate cancer research. Actor Eric Cormack (of "Will and Grace" fame) is sporting his best plaid as ambassador for the national campaign organised by Prostate Cancer Canada. "With men's health, we don't talk enough about it".
Prostate Cancer Canada says that 1 in 8 Canadian men will be diagnosed with prostate cancer in their lifetime, and it is the most common cancer affecting Canadian men. McCormack's Dad was a cancer victim, so the cause is dear to his heart as to many of our hearts. "We men need to be looking out for ourselves" (Eric Cormack) and we need to support them!
Participants can register their workplace, encourage colleagues to donate and wear plaid today and Sunday. You can even share photos of your 'Go Plaid' moments on social media. For every photo shared until June 18th with the hashtag #PlaidForDad, $5 will be donated.
"I believe that every human mind feels pleasure in doing good to another" – Thomas Jefferson
Happy Father's Day to all our Dads and grandfathers – enjoy your day!
Whatever the day, we still have you covered – Sheila and Michelle