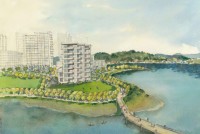 Another Friday is here, and all eyes are on Port Moody's horizon!
With the departure of some industry – and the arrival of our waterfront Skytrain station – our city is considering some major residential projects. Last week, the city was managing 30 development applications; of which, 23 were in Moody Centre. With the majority of these plans aiming to develop our older industrial sites into high-density residential neighbourhoods, the growth would be astonishing. It's expected that if these plans all win approval, our current population of 33,500 could grow by approximately 15,000 more residents!
Also in the headlines continues to be our ever-scorching real estate market. May 2016 was a chart-topper, and we're still experiencing a very active market. Even as we head into summer, inventory hasn't slowed over the last few weeks –buyers and lenders are being cautious; resulting in more time on the market for product, less multiple-offer situations, and conditional offers. We continue to see an influx of buyers migrate to the 'burbs – many seeking a more urban, affordable lifestyle by opting to purchase condos and townhomes.
Housing prices continue to rise in the Tri-Cities, with the benchmark price of a detached single-family home in Port Moody reaching $1,430,100 in May, a 4.6% increase over April, and a 5.7% increase over May 2016. Similarly, the benchmark price of a Port Coquitlam home last month was $967,600, which was up 5.6% from April, and 6.8% from May 2016. Coquitlam's home prices rose to $1,231,200, up 3.7% from April, and 3.7% since the year prior. (Curious about the stats in other neighbourhoods? Don't hesitate to ask!)
You've likely heard that inventory is low, BUT it's still an ideal time to get into the market. We've had some great success landing our buyers into their dream properties.
Ask us how we can help make your home ownership and investment goals a reality – in every market; we've always got you covered.
And one more thing? Don't forget – Father's Day is right around the corner. Lucky for us, there's no shortage of great local places to dine and shop for the special Dad in your life. Comment below, and tell us what you've got in mind!
Your Partners in Real Estate,
Sheila and Michelle