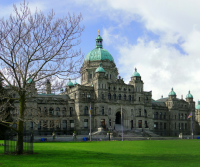 It may not be perfect, but democracy is the best system we have. Having recently celebrated the powerful Canadian contribution to World War 2, we are well aware of the price our fathers and grandfathers paid to maintain our democracy. The other hard fought battle in history concerns the right to vote which for many Canadians began with Confederation (1867) – who has been permitted to vote has evolved since then.
In order to vote in early days, one had to be a male property owner & the property had to be a certain size. In the 4 Western provinces, women were awarded the right to vote in 1916, thanks to the Suffragettes. It wasn't until 1948 that racial & ethnic groups could not be excluded from voting – and not until 1955, were laws introduced ending exclusion from voting based on religion. Prisoners with sentences below 2 yrs. have been able to vote since 1993, then, since 2002, prisoners with any length of sentence have been eligible to vote.
So with a recent history like this, why doesn't every eligible voter go to the polls? This is at the heart of democracy – citizens exercising power to select their parliamentarians in free elections. Do we think we can't make a difference? – surely not, when we watch the returns coming in and the narrow margin by which a candidate might win. Or…is it really that we take our freedoms and human rights for granted? More likely – we need to respect and honour our ancestors' battle for voting rights, the lives lost in the stark reality of battle and exercise our rights, which don't exist in so many countries & repressive regimes round the globe.
Just takes a few minutes to get out and vote, but takes years to recover from poor political choices. Make a difference on Tuesday, May 9 – be the power brokers and VOTE! It is the future of our beautiful province.
And…of course when it comes to real estate, we have you covered rain or shine! Have an exciting week.
-Sheila and Michelle