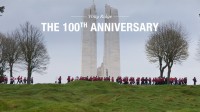 Lest we forget ….. And Canadians will not forget, as demonstrated by the numbers of young cadets, military personnel and students going from here to Vimy Ridge for this weekend's celebrations of 100 years since the Canadians captured Vimy Ridge. For the few remaining veterans and their families, it is reassuring that their colleagues and loved ones will still be remembered by the next generation in that cautionary history of war. Michelle's father, Ted Hawthorne, honorary Colonel of The British Columbia Regiment, will be there alongside many other British Columbians and Canadians of all ages to honor the fallen.
April 9,1917, was Easter Monday , and the first occasion on which all 4 divisions of the Canadian Corps attacked as a formation. Their surprising achievement was meticulously planned, prepared & executed & paved the way for the British advances. The cost in young lives was huge – 3,598 dead in that one attack. If you want to have some sense of what warfare was like in 1917, visit the Port Moody Museum on Murray Street, especially this weekend as it has tours of exhibits, actual trenches, a plane & train similar to those instrumental in the First World War. History on our doorstep.
So…on Sunday, we shall be feeling gratitude & sparing thoughts for the astounding courage of those young men and women 100 years ago.
Sheila and Michelle