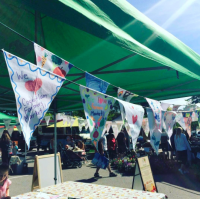 Closing off another busy week in Real Estate with the May long weekend – how fun! Our adventures won't stop here just because it's Friday; we're thrilled to have some fun showings lined up for eager buyers, and we'll be welcoming visitors to our open house at 921 Baker Drive on Saturday from 2-4PM. This home is ready for summer entertaining! Move-in ready, and outfitted with a private, sunny pool and upper and lower patios.
Speaking of sunshine, it's in the forecast for the weekend!
Big thanks to Tri-City News for providing a great roundup of this weekend's events – we've selected some of our favourites!
Here are just some of the fun events happening in the Tri-Cities and beyond over the next few days:
Winnie the Pooh and Seussical the Musical Jr.
Friday and Saturday May 19- 20 7PM
Sunday, May 21st 2PM
Support the students of Coquitlam's Lindbjerg Academy of the Performing Arts! The centre is hosting a double feature over the weekend at the Inlet Theatre (100 Newport Dr., Port Moody). Tickets at $20 are for sale at the door or at the academy (7-75 Blue Mountain St., Coquitlam). Call 604-777-2211 or email info@lindbjergacademy.com.
Coquitlam Little League Invitational
Saturday, Sunday, and Monday May 20-22
Batter, batter up! Games running all weekend at Mackin Yard at Mackin Park (1046 Brunette Ave., Coquitlam).
Visit coquitlamlittleleague.ca for the tournament schedule.
Half-day Birding Field Trip
Saturday, May 20
Bring your binoculars! Larry Cowan and members of Nature Vancouver are headed out on a half-day birding field trip at Colony Farm regional park in Coquitlam! Check out the lazuli bunting and other species such as the western kingbird, band-tailed pigeon and American bittern. The tour departs at 8:30 a.m. from the parking lot near the community gardens.
Call 604-307-0931 for more information.
From Japan to Canada
Japanese-Canadian artists are showcased in new exhibit Port Moody Arts Centre (2425 St. Johns St., Port Moody). Take in the beauty of paintings by Port Coquitlam resident Yoshi Kamei and Mitsuko Fujino and Ken Suzuki. As well, you can view an installation by PMAC faculty member Robert Shiozaki and work from Vancouver artist Terry Sasaki.
Call 604-931-2008 or visit pomoarts.ca.
WE ARE COQUITLAM
Learn about Coquitlam from a whole new (historical) perspective! The new exhibit about the city has you covered from 1967 and on. Head to the Evergreen Cultural Centre (1205 Pinetree Way) to check it out. Admission is FREE, and the display is happening until Aug. 22nd for Canada's 150th birthday.
Call 604-927-6555 or visit evergreenculturalcentre.ca.
White Salsa and Latin Dance Party
Saturday, May 20th
You're invited by Alberto Gonzalez and Teresa Szfler to their White Salsa and Latin Dance Party! Shake it to some Latin tunes in the rehearsal hall of the Evergreen Cultural Centre (1205 Pinetree Way, Coquitlam) from 8 p.m. to 12:30 a.m. Admission is just $10, and you'll want to dress in white. Don't forget your dancing shoes! Licensed and free parking is available.
Call 604-725-4654 or visit hotsalsadancezone.com.
Coquitlam Farmers' Market
Sunday, May 21
The second harvest of the season is happening on Sunday from 9am-1pm! Here's your chance to gather some fresh fare and support our local farmers and suppliers. Held in the parking lot of Dogwood Pavilion at 624 Poirier St. in Coquitlam.
Visit makebakegrow.com to learn more.
Did we miss anything? Leave a comment on our Facebook page! Better yet – tag us in your weekend pics. We always love to see what you're up to in the community.
Wishing you a happy, sunshine-filled weekend.
-Sheila and Michelle