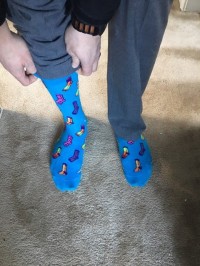 Shane's pulling up his realtor socks – it's going to be a busy weekend here for Real Estate in the 'burbs!
Our week kicked off with B.C. Family Day, followed by Valentine's Day, and a flurry of closings for our clients! We can't believe it's Friday already. Today, we're in and out of the office preparing for some open houses and incoming multiple offers.
Months after the introduction of the 15% foreign-buyer tax and new federal mortgage rules, our Greater Vancouver housing market has cooled, but we are feeling the heat begin to rise as we inch closer to spring. The detached home market has moderated with the foreign tax and tighter mortgage rules, but townhomes and condos remain strong and steady in many areas.
The influx of young families who have migrated here from Vancouver's downtown core are snapping up our detached homes as well as townhomes and condos in pursuit of a more affordable, comfortable lifestyle for their growing families. Our easy access to our new Evergreen Extension Skytrain station makes commuting and Vancouver hockey game nights a breeze, too! And what about our baby boomers? They're actively seeking their best downsize option in the 'burbs – often in pursuit of "one-level living" that's ideally larger than the typical 2 bed/2 bath condo.
Buying or Selling – Your Best Bet in the 'Burbs?
It's important to note that our sales averages vary greatly across our local neighborhoods as well as by property type – if you're wondering if now's a good time to buy or sell in Port Moody, Coquitlam, Port Coquitlam, Burnaby, New Westminster, Pitt Meadows, or Maple Ridge, contact us to find out the 'sellers best bet' and the 'buyers best bet' in each neighbourhood.
Regardless of the season – we've got you covered. You can count on us to carry you through what's sure to be another exciting spring in Real Estate!
Your partners in Real Estate,
Michelle and Sheila
Psst….
In other news? We've got some EXCITING new changes we can't wait to show you. Be sure to follow us on social as we roll them out…