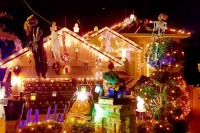 We discovered some quiet good news this week. If you buy a brand new condo under $750,000, property transfer tax does not apply even if you are not a first time buyer. It was an unexpected $8,000 windfall for our buyer this week! Amazing how this good real estate news got buried under the constant barrage of bad news.
Going into a presentation centre to purchase a brand new condo, not yet built, can be daunting and tricky to see the full picture with all the details. Let us help you – we have done this before!! And…we are representing your best interests, not those of the developer. Here are our happy mother and daughter – this week's condo purchasers – 1 each! Hats off to Ledingham McCallister who made the experience at 'The Cameron' pleasant & efficient – great product and professional, patient, accommodating staff. Thank you Larissa and Josephine.
As long time realtors, we are enjoying this shift in the market where we can put our years of negotiating practice to work for our clients. Without the previous frenzy, our buyers have time to consider and do their due diligence with a building inspection, financing subject, strata documents etc. And… sellers don't wake up to find their buyer has remorse because of having outbid the competition and taken all the risks attendant to a cash offer! It is back to business as usual.
Looks like we might get all the rain over in time for a dry Hallowe'en – what a novelty! We hope the costumes stay dry and the trick and treaters can stay warm. Wishing you the safest and spookiest Hallowe'en – don't forget to visit the frightfully scary haunted house at 443 Draycott St, Coquitlam. All donations to Variety Club – the Children's Charity. Thanks to the Ayers family who continue to do this incredible labour of love year after year.
Let us clear the fog and demystify the real estate world for you because we're not scared to have you covered as always!
Sheila and Michelle