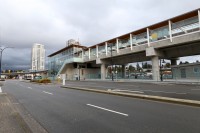 Today is the BIG DAY and we are soooo excited – finally the TriCities is connected! Yes, the Evergreen Line, our own SkyTrain service, opens today with all the hoopla happening at Coquitlam Central Station. First train leaves at noon and entertainment, information and food happening most of the day, both at this station, Moody Centre & Burquitlam, plus other stations and spots around the TriCities. TransLink has the information on their website. A giant stride towards getting more cars off the road and commuting without stress! Even our stations look good!
Interest rates definitely on the rise – TD announced this week new rules and higher interest rate for investors purchasing rentals and higher rates for anyone taking a mortgage with an amortization more than 25 years. All this, while announcing how many billions in profit they have made this year! Big Brother can stop looking after us now – government and big bank interventions not helping!
Enjoy all the fun that December brings – our cities and businesses all looking magical with lights and trees. Lafarge Lake is amazing! 'Tis the season. And, as in any season, we still have you covered.
Sheila and Michelle.